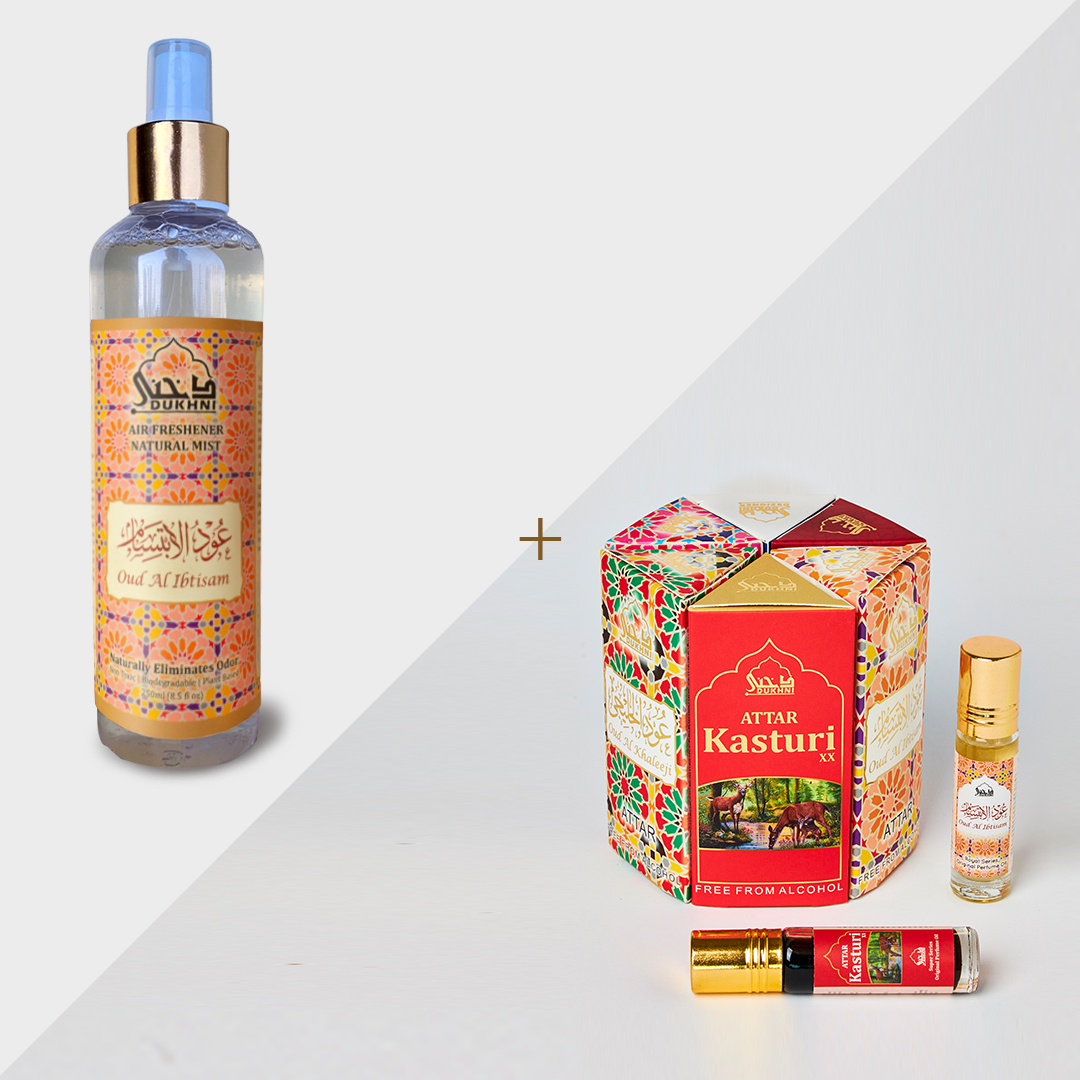 Premiere Attar Oil Set - 6 Bottles x 6 ml & Oud Al Ibtisam Mist
$43.48
Regular price
$49.98
Description

How to use

Shipping Info
CONTENTS: 6 Bottles x 6ml Attar Oils-  Oud Al Ibtisam, Oud Al Khaleeji, Oud Al Habayeb, Kasturi XX (Black Musk), Ambar, Blue Girl (0.2 fl Oz each). Attar al Faraash includes a 1 x 250ml bottle of non-alcoholic Natural Mist Spray
DUKHNI ATTAR AL FARAASH: is quick and convenient to freshen up your home or car. The sprays are ideal for carpets, bed linen, sofa's, upholstery and prayer mats. These non alcoholic mists are also good air fresheners, car sprays, kitchen and bathroom freshening sprays
DUKHNI ARABIC ATTAR OILS: are luxury fragrances made using the finest quality, sustainably-sourced natural ingredients. Enjoy an assortment of scents that are easy to carry around and long lasting. Also, perfect for gifting, our products are expertly blended making them compellingly precious and personal
ATTAR SCENT DESCRIPTION : Oud al Ibtisam is warm, floral and oud, Oud al Khaleeji is zesty with Oud, Oud al Habayeb is rose based oud, Kasturi also known as black musk is rich floral and woody, Ambar is sweet and balsamic, Blue Girl is light and refreshing. 
HERITAGE: Dukhni has specialized in the art of developing fragrances and incense since 1907. Our journey began in Aden, which formed part of the historic Incense Route. In our quest to be able to translate memories and emotions into experiences, we take great care in creating exceptional products that are compellingly precious yet personal
The following standard and expedited delivery estimates and rates.
All US orders - FREE Standard Shipping on all Orders
Expedited Shipping - $7 (2 business days)
All US orders above $100 - free expedited shipping (2 business days)
Premiere Attar Oil Set - 6 Bottles x 6 ml & Oud Al Ibtisam Mist
$43.48
Regular price
$49.98