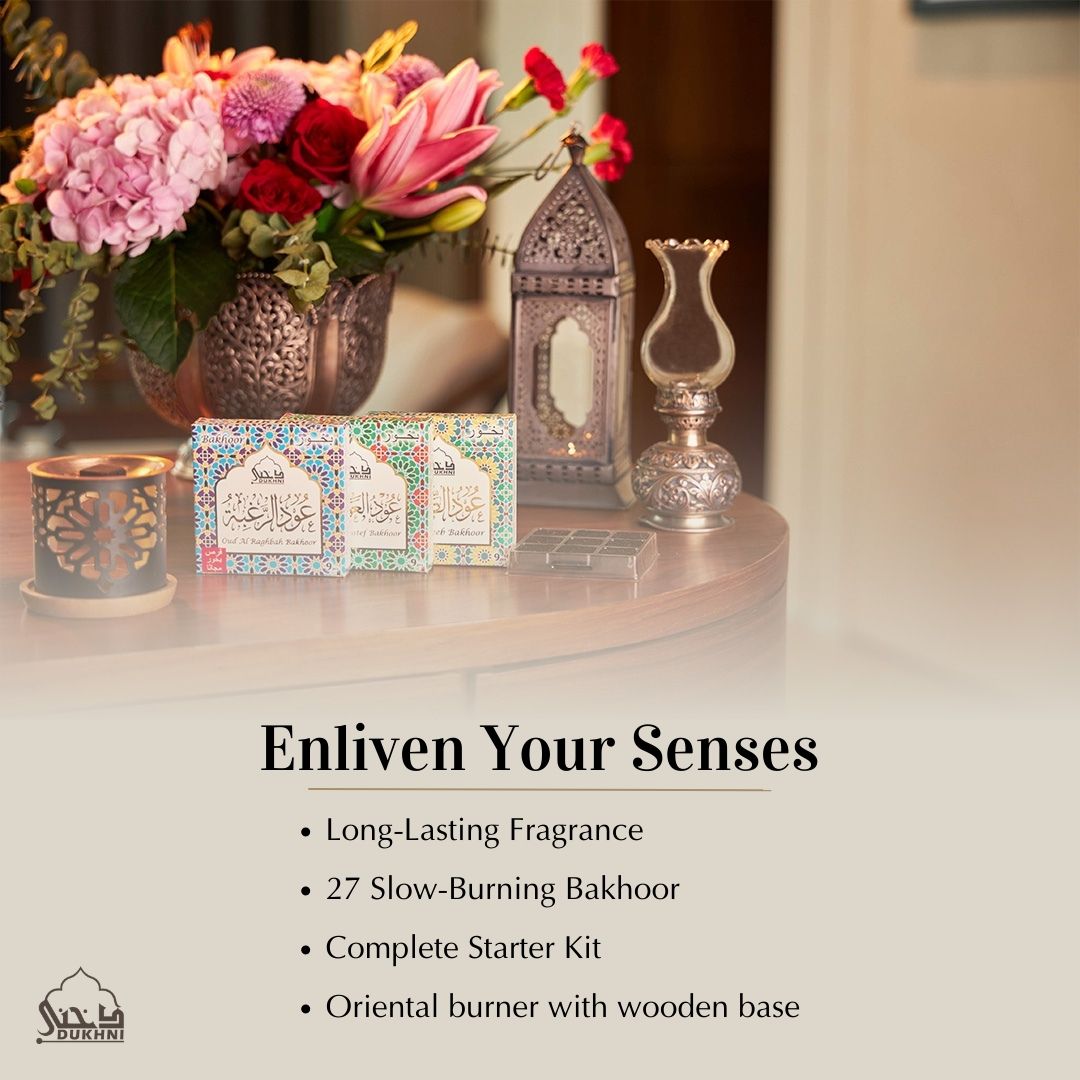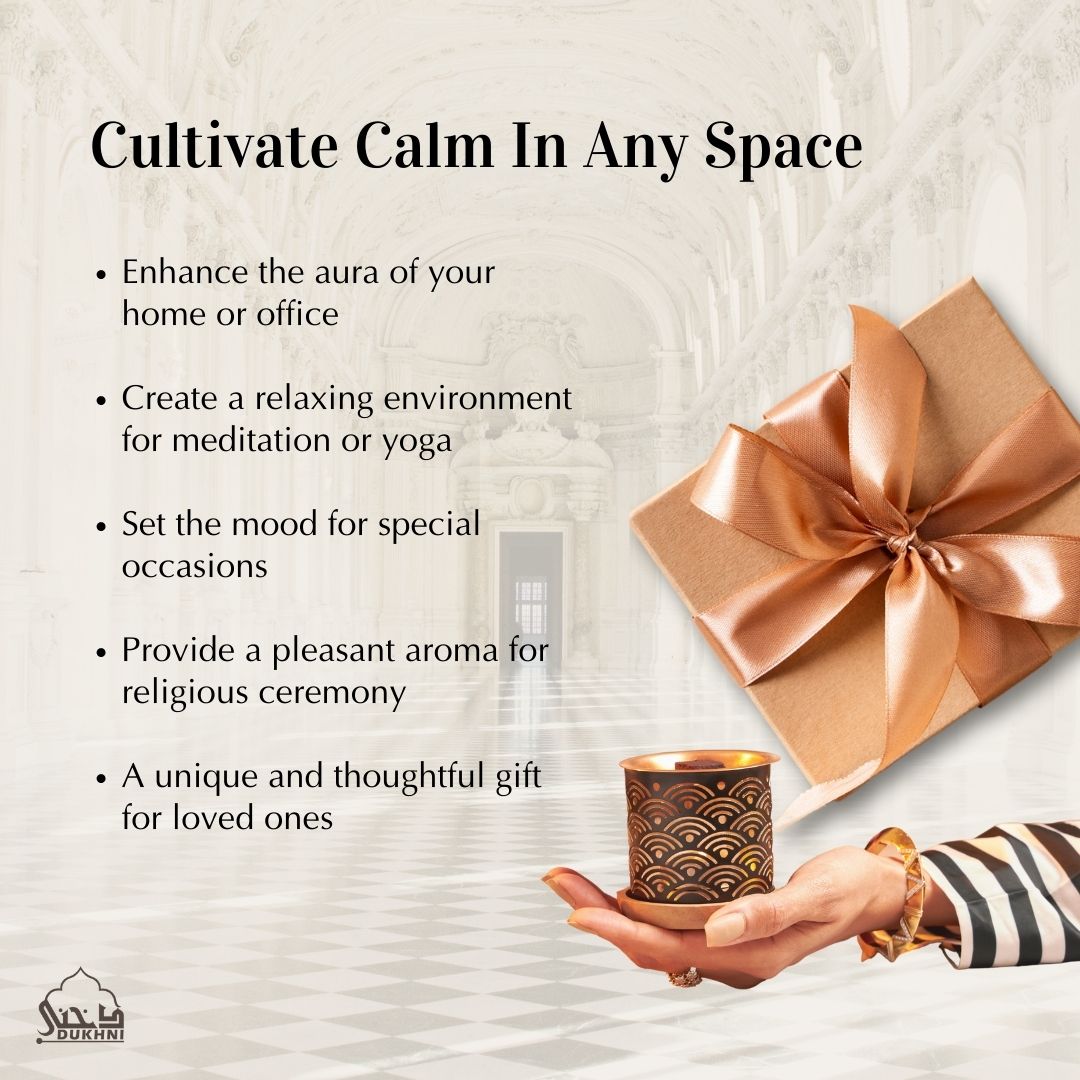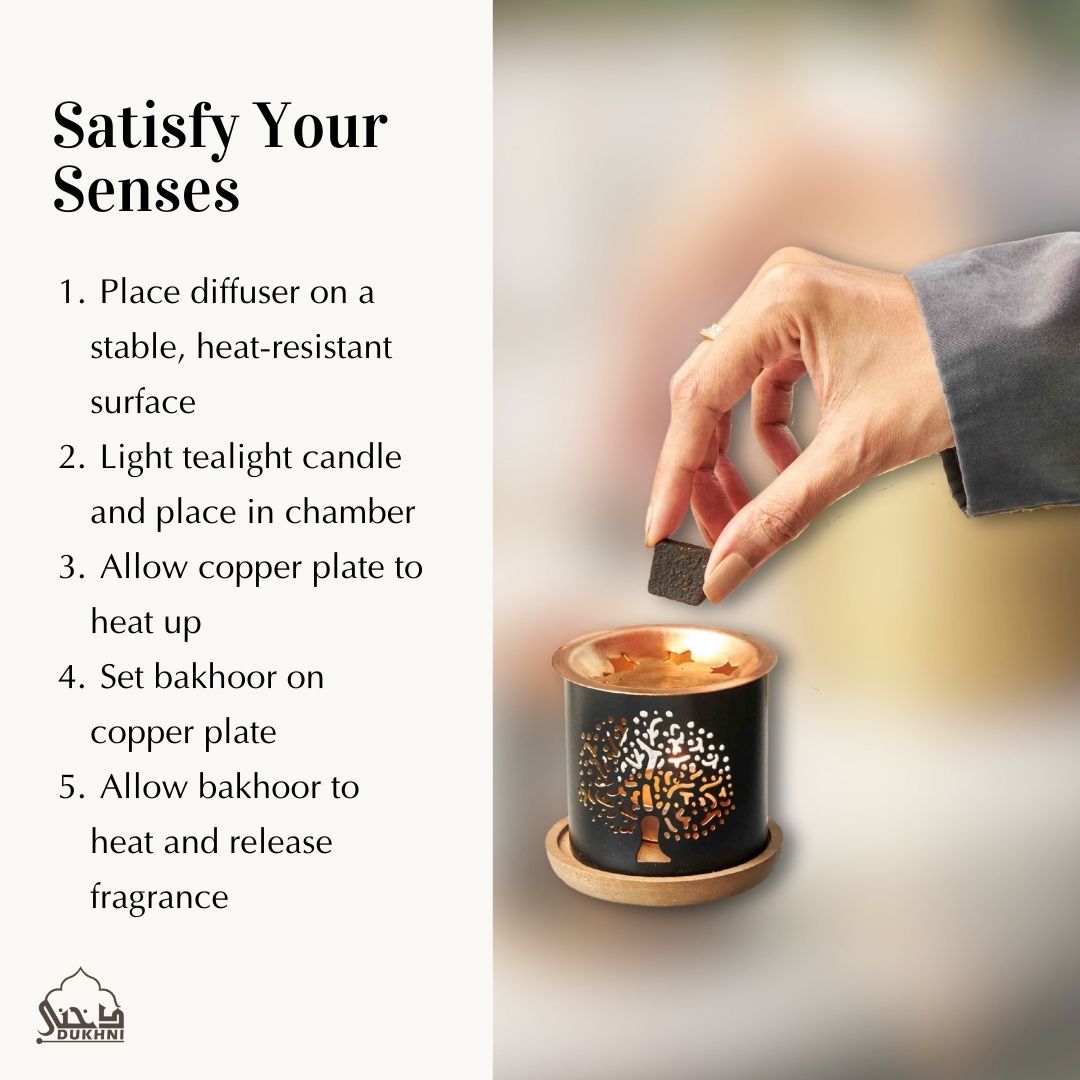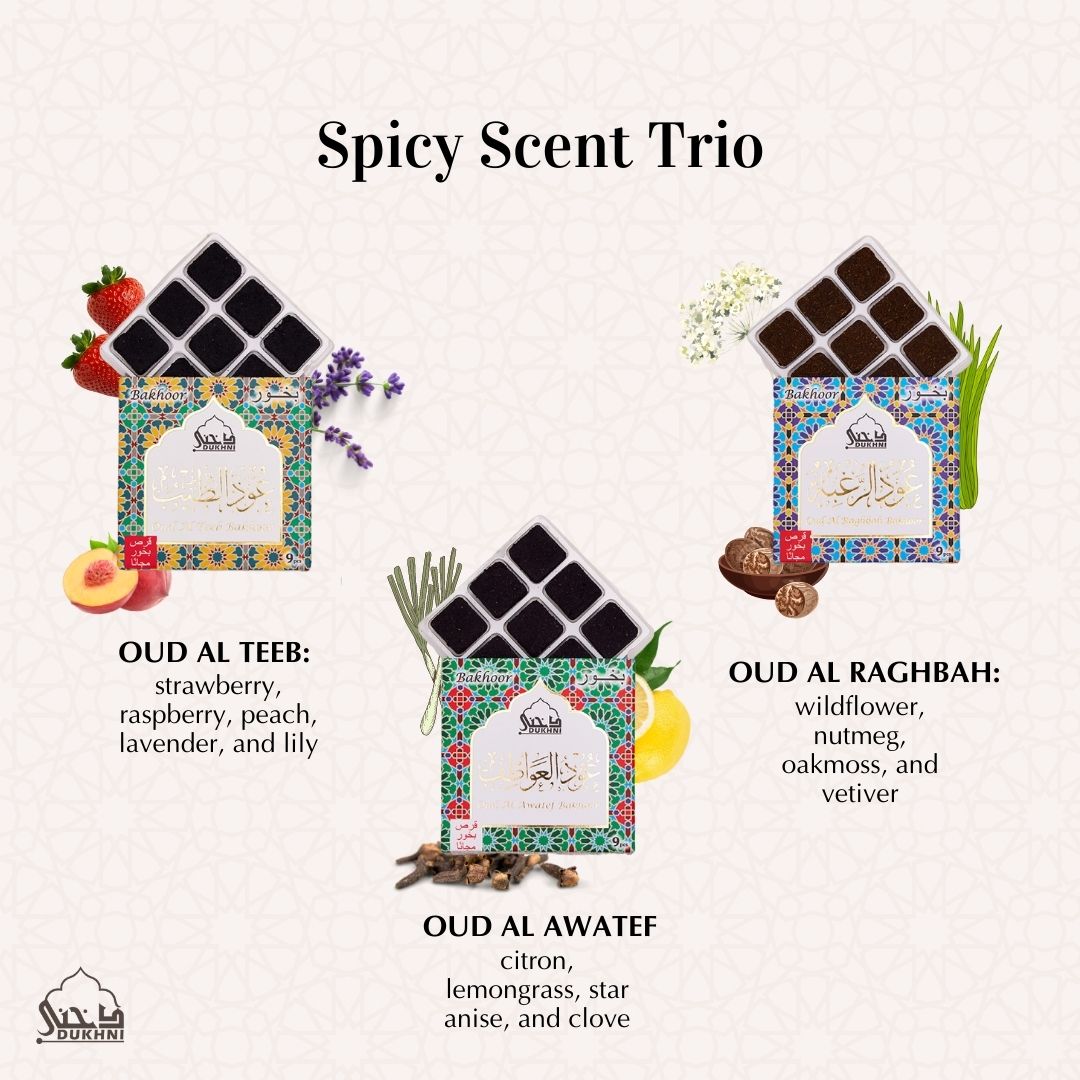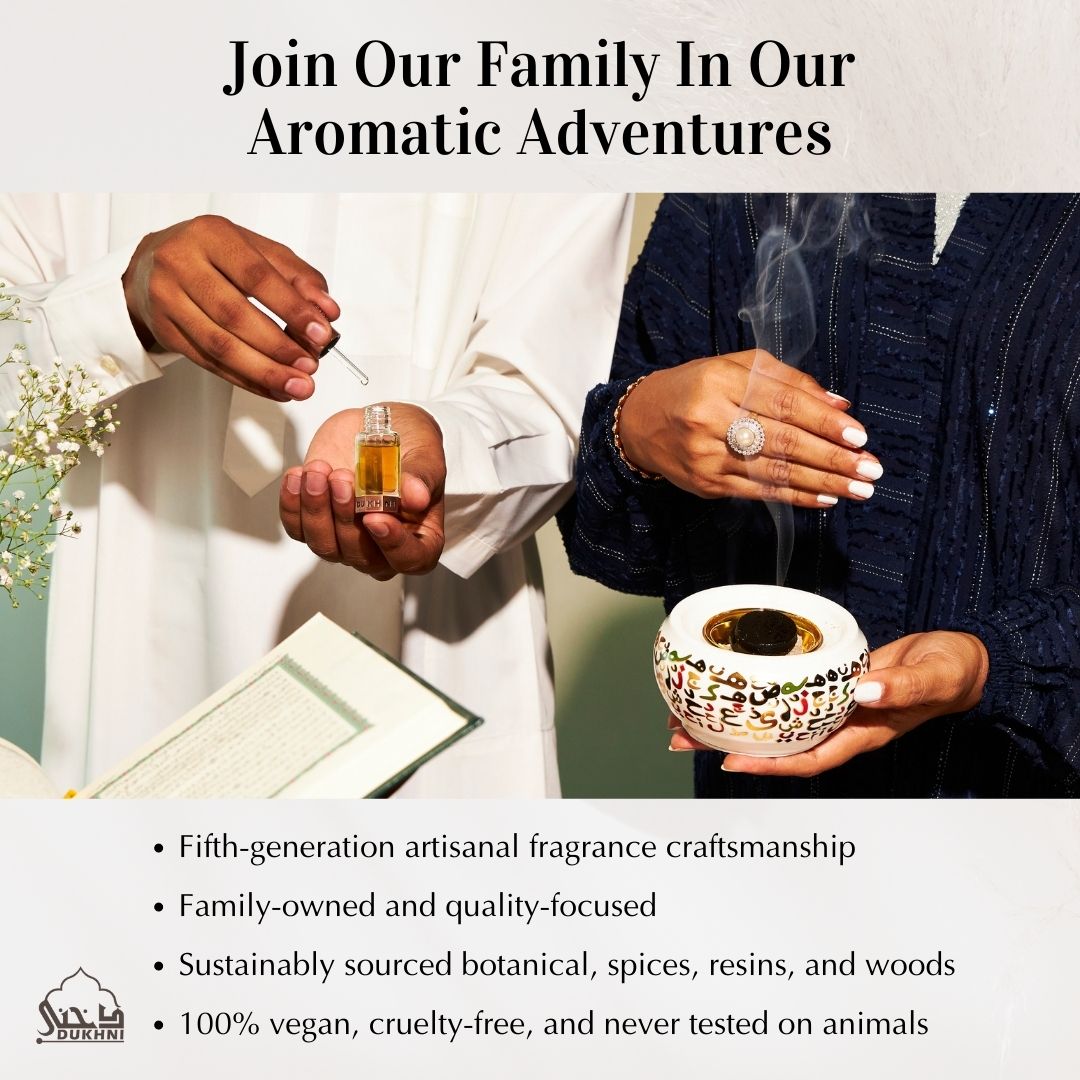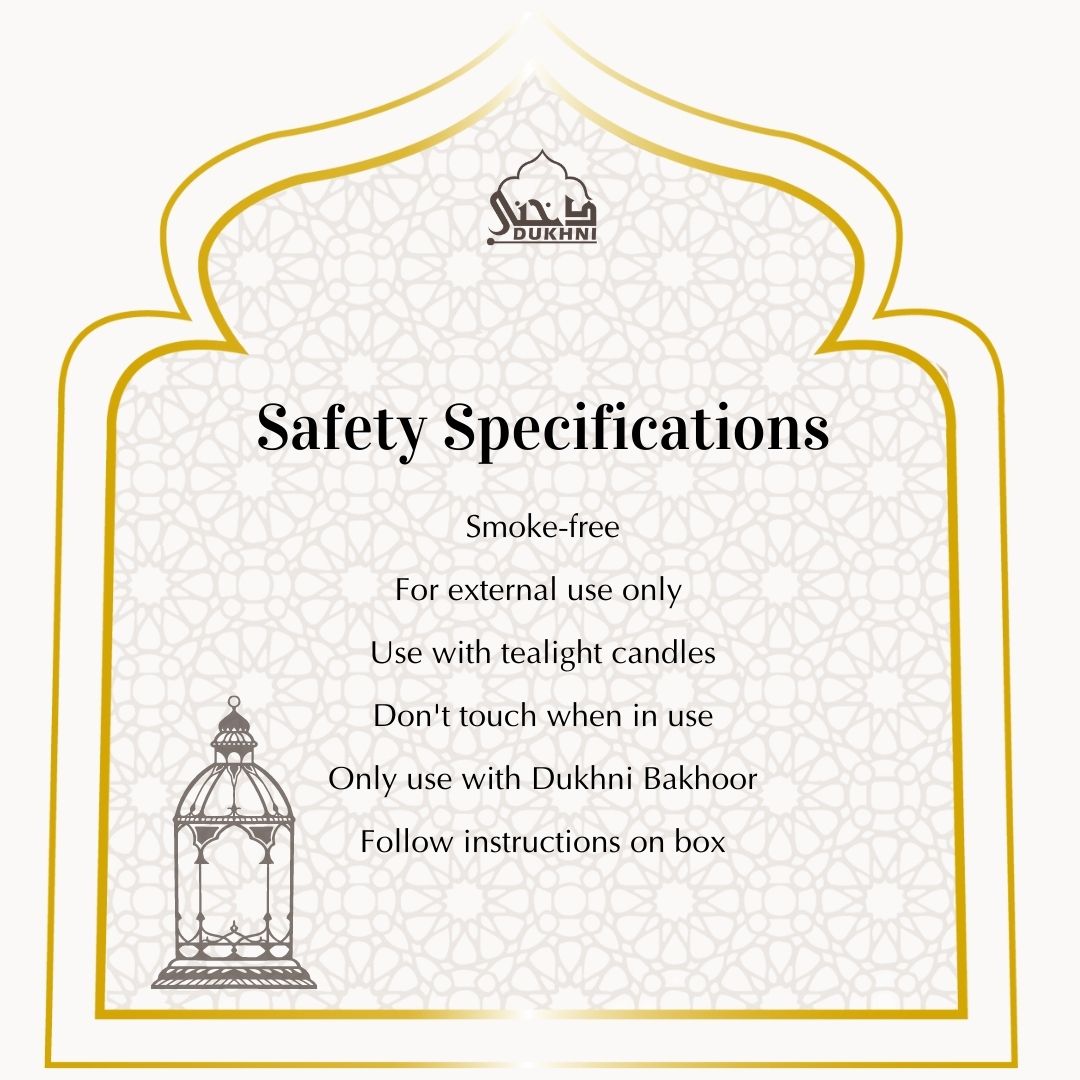 Oud Al Teeb, Raghbah, Awatef Bakhoor + Smokeless Burner
30 pieces of bakhoor In 3 amazing oud scents & Oriental Burner
Description

How to use

Shipping Info
Change the mood of your home with authentic oud. Experience the smokeless Dukhni burner for a hassle-free and safer environment.

Scent profile: Oud al Teeb is a uniquely spirited blend that opens with a fruity strawberry, raspberry and peach accord softened by a delicate heart of lavender, rose and lily. Oud Al Raghbah is a wild blend that opens with a wildflower and nutmeg accord and a softly refreshing base of oakmoss, vetiver, musk and agarwood. Grassy hints of citron and lemongrass open up to a spicy middle of star anise, clove and stone flower with warm and elegant base notes in Oud Al Awatef.

What's included? 9 pieces each of 3 different fragrances - Oud Al Teeb, Oud Al Raghbah, Oud Al Awatef and 3 extra sample pieces with a smoke-free bakhoor burner and a tealight candle.

About the smoke free Bakhoor Burner Now burn bakhoor with a tea light candle. Its Low smoke; slow diffusion; non toxic; clean burn; fantastic aroma; very long-lasting.

Cultivate calm in any space Ideal for prayer time, while reading the Quran, meditating, or simply relaxing. It also eliminates cooking smells, bathroom odors, and cigarette smoke. Perfect for special occasions and gatherings.

What makes Dukhni Bakhoor special? It's crafted with sustainably sourced natural ingredients, carefully selected to create captivating fragrances. Each scent is a blend of aromatic extracts, flowers, essential oils, spices, resins, and woods. Dukhni aims to provide an authentic and a luxurious aromatic experience.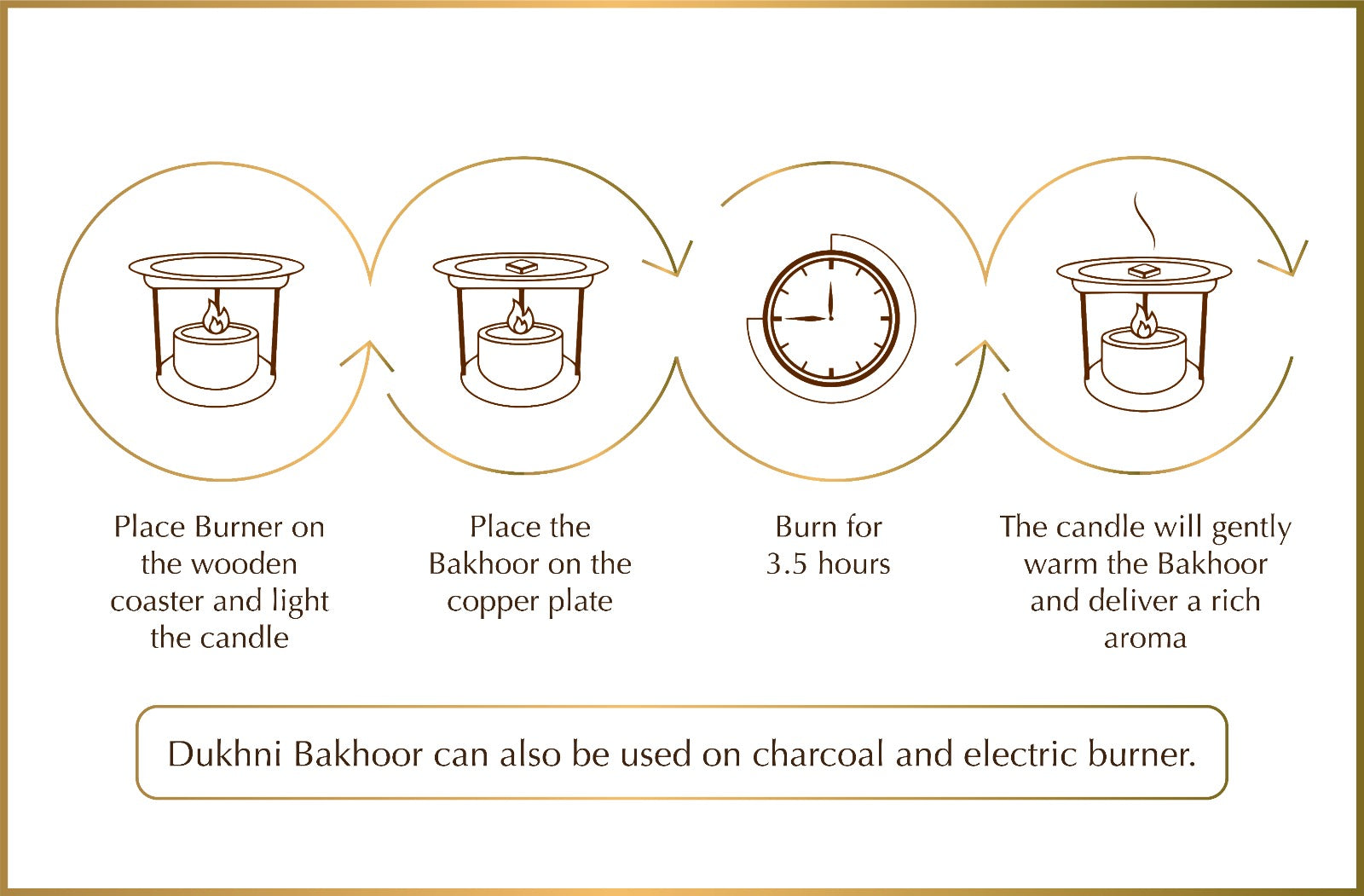 7-9 days standard delivery. Free Shipping on all orders within USA
3-4 days expedited shipping. $7 shipping fee within USA
Free expedited shipping on orders above $100
Oud Al Teeb, Raghbah, Awatef Bakhoor + Smokeless Burner
Shipping & Returns

Estimated Delivery

Shipping charges for your order will be calculated and displayed at checkout. 

The following standard and expedited delivery estimates and rates.

All US orders - FREE Standard Shipping on all Orders
Expedited Shipping - $7 (2 business days)
All US orders above $100 - free expedited shipping (2 business days)

Please note that our shipping timelines are estimates. We reserve the right to delay delivery and shipment and are not liable to compensate customers for delays beyond the estimated delivery time.

Returns & Refunds

We do not accept any returns and do not issue refunds once orders are purchased. If there is an issue with your order, we will try our level best to fix it - and are committed to a good experience for all our customers. 

Damages & Exchanges

If your order arrives damaged, defective, or incorrect, please contact us within 7 days of receiving the product so that we can evaluate the issue and make it right.

We do not accept exchanges - however if you have a particular issue, please email us at - customerservice@dukhni.com & we will try our best to accommodate your request. 

Get in touch

Email us the issue or feedback at customerservice@dukhni.com

Please put your order number in the subject so it is easy for us to pull up your information. 
FAQ

Does this box include a burner?

Yes, it does include our smokeless burner and a tealight candle. 

 How long does the bakhoor last for?

Dukhni Oud Bakhoor lasts for approximately 3-3.5 hours when burned on the signature Dukhni burner. The tealight candle also burns for the same time duration. 

How will I know the piece of bakhoor is over?

The piece of bakhoor does not melt or disintegrate. At the end of 3,5 hours, all the oil in the piece will have diffused. After 3.5 hours of continuous burning of a piece bakhoor on the Dukhni burner, the piece needs to be discarded inspite of the residual scent in the bakhoor that you will notice.  

Can I burn bakhoor on charcoal?

Dukhni bakhoor can be burned 3 ways- on the Dukhni smokeless burner, on charcoal and on any electric burner. Please follow all safety precautions while burning bakhoor. 

Can I light the bakhoor directly?

No, please do not light the piece of bakhoor directly. The bakhoor cannot be lit on fire but it rather needs a medium to burn. Please use the Dukhni burner or charcoal or an electric burner to burn the bakhoor. 

What is the difference between Oud Bakhoor and Ma'amoul Bakhoor Variety Boxes? 

Oud Bakhoor has 10 scents X 2 each, total of 20 pieces. Ma'amoul Bakhoor has 5 scents x 2 each,totaling 10 pieces. The Ma'amouls bakhoor pieces are bigger and it has richer and more traditional scents that are slightly more intense. If you are a first time user and are new to bakhoor, we recommend starting with the Oud Bakhoor Variety Box. .
What makes this the best choice?
Exquisite & Authentic Oud
The richness of genuine oud expertly blended, creates a captivating and opulent scent experience.
Mess-Free, Ash free, and Non-Toxic
The smokeless burner of Dukhni ensures a safer environment by eliminating smoke and toxins for a hassle-free and healthier indulgence.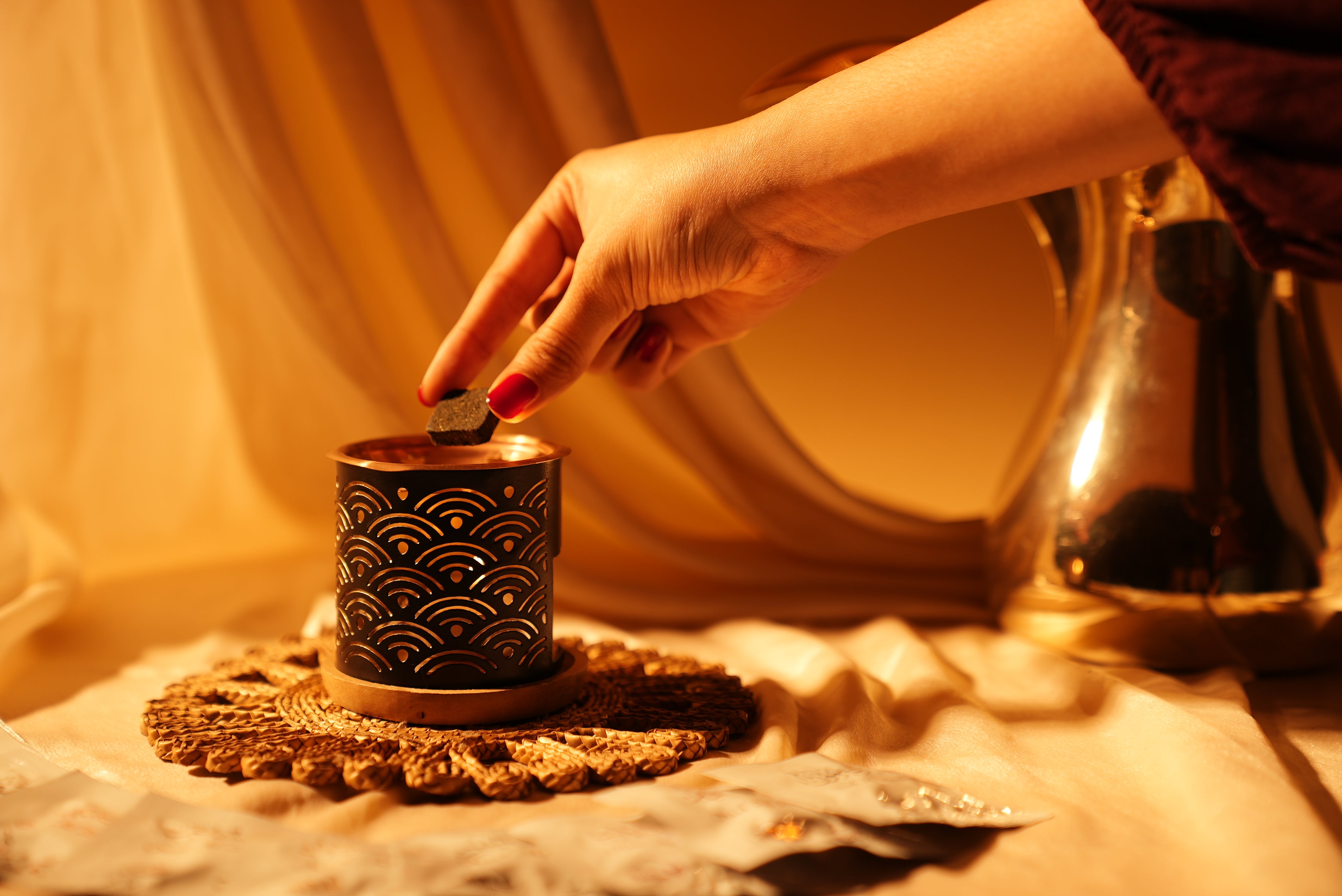 Viewers who bought this also bought